James Henry BLIGHT (1884 to 1945)
[Home] - [Family History Home] - [Back to Photo Index]
James was born in Barnstaple on 10-Jan-1884 [B-Cert].
He married Grace Ethel CATT on 05-Jun-1915 in Tonbridge Kent [M-Cert]. He was a works manager for at the Royal Albert Dock for Green & Sidley Weir. His older brother George Alexander was born in India.
He died 5-Jul-1945 in Ilford, Essex [D-Cert] aged 61.
James & Grace had 1 daughter:
George Alexander & James Henry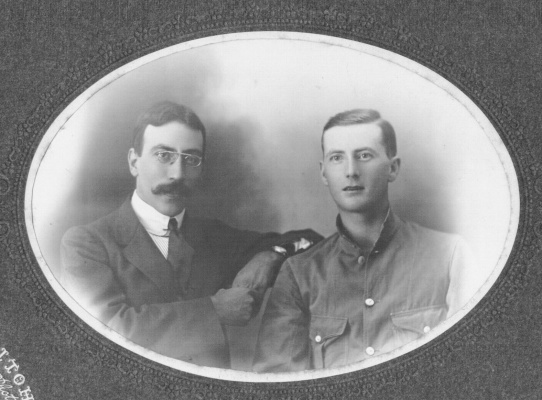 Not found, could be in India.
107 Brownhill Road, Lewisham, Kent
Agnes K. ASHDOWN, wife, 37(M), born Australia
Sarah K. HIGGIE, mother, 63(Widow), born Scotland
George A. BLIGHT, 18(S), born India, Engineers Clerk
James H. BLIGHT, 17(S), born Barnstaple, Devon, Mechanical Engineer
Edith A. ASHDOWN, 10, born India
Maud E. ASHDOWN, 8, born India
Mary G. HERBERT, 14, neice, born India
Jessie HERBERT, 9, neice, born India
[Home] - [Family History Home] - [Back to Photo Index]