Arthur Sydney CUMNER (1862-1924)
[Home] - [Family History Home] - [Back to Photo Index]
Arthur Sydney was born abt 1862 in Curragh, Ireland to Sydney CUMNER & Miriam Crane MATTHEWS.
On 20-Dec-1898 he married Charlotte Sarah FERGUSON [M-Cert].
From PRO WO97/4623: He was with the Grenadier Guards 3rd Batallion, Regimental No. 8124. He joined 27-Sep-1882 signing on for 12 years and giving his former occupation as a groom.
He was re-engaged for a further 12 years in Jan 1894.
His description on discharge (1903) was: Age 40, 5ft 10ins, 39ins chest, fair complexion, grey eyes and fair hair. His intended residence was Chapet? Villa, Crickey Hill, Yateley, Hants.
He was promoted:
L. Cpl 12-Oct-1883
Cpl 13-May-1884
Sgt. 8-Feb-1891

Became a colour sgt. but was permitted to resign the rank and revert to Sgt. in lieu of being tried for abscence and conduct prejudicial to good order.

Service:
Home 27-Sep-1882 to 19-Feb-1885
Egypt 20-Feb-1885 to 1-Sep-1885
Cyprus 2-Sep-1885 to 10-Sep-1885
Home 11-Sep-1885 to 22-Sep-1899
Gibralter 23-Sep-1899 to 25-Oct-1899
S. Africa 26-Oct-1899 to 6-Oct-1902
Home 7-Oct-1902 to 26-Sep-1903
Medals:
Egyptian War Medal and clasp Suakin 1885
Khedive's Bronze Star
Queen's South African Medal with class - Belmon, Modder River, Dreifontein, Johannesburg, Diamond Hill, Belfast
King's South African Medal with clasps - South Africa 1901 and South Africa 1902
Died: 19-Feb-1924 at Gloucester Gate Lodge, Regents Park, London, NW1
He died on 19-Feb-1924 in Middlesex Hospital (Gloucester Gate Lodge, Regents Park) being in receipt of a pension of 2/3d per day.
Arthur & Charlotte has 1 child:
Arthur John Sidney (1903-1962)
Census: 1871, 1881, 1891, 1901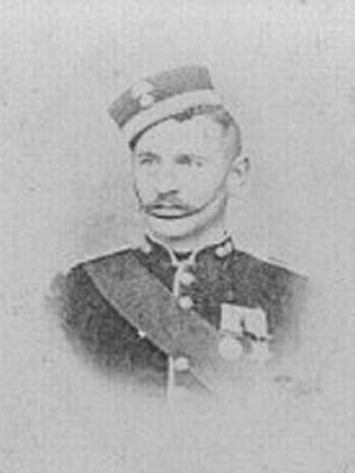 Slade Street, St. Leonards, Hythe, Kent
Marian CUMNER, 27(M), Laundress & wife of butler, born Aldershot, Hampshire
Thomas W. CUMNER, 10(S), Scholar, born Ireland
Arthur S. CUMNER, 9(S), Scholar, born Ireland
Alfred G. CUMNER, 5(S), Scholar, born Pembroke Dock, Wales
John H. CUMNER, 1(S), born Hythe, Kent
Fanny HOLLY, 16(S), Niece, born Newbury, Berkshire

Royal Military College, Sandhurst, Berkshire
Arthur CUMNER, 18(S), College Servant, born Ireland
3rd Battalion Grenadier Guards, Chelsea
Arthur CUMNER, Soldier, 27(S), Colour Sergeant, born Ireland
Can't find Arthur or Charlotte
[Home] - [Family History Home] - [Back to Photo Index]