Margaret (Madge) TITHERADGE (1887-1961)
[Home] - [Family History Home] - [Back to Photo Index]
Margaret was the 5th daughter of George Sutton TITHERADGE & Alma Maria SAEGENT. She was born in Australia on 2-Jul-1887.
Her father was an actor and toured the world which is why Madge was born in Australia.
Madge together with Lily, Sylvia, Frances, Eve & Nina all attended the Ascot Vale Girls' School in Moonee Ponds, Australia.
From the IMDb, Madge starred in several films in the 1910s & 1920s.
Brigadier Gerard (1915)
A Fair Imposter (1916)
The Woman Who Was Nothing (1917)
God Bless Our Red, White and Blue (1918)
Gamblers All (1919)
A Temporary Gentleman (1920)
Love in the Wilderness (1920)
The Husband Hunter (1920)
Her Story (1920)
David and Jonathan (1920)
She became an actress with her first stage appearance before she was 16.
She died 14-Nov-1961 in Fetcham, Surrey
Census: 1901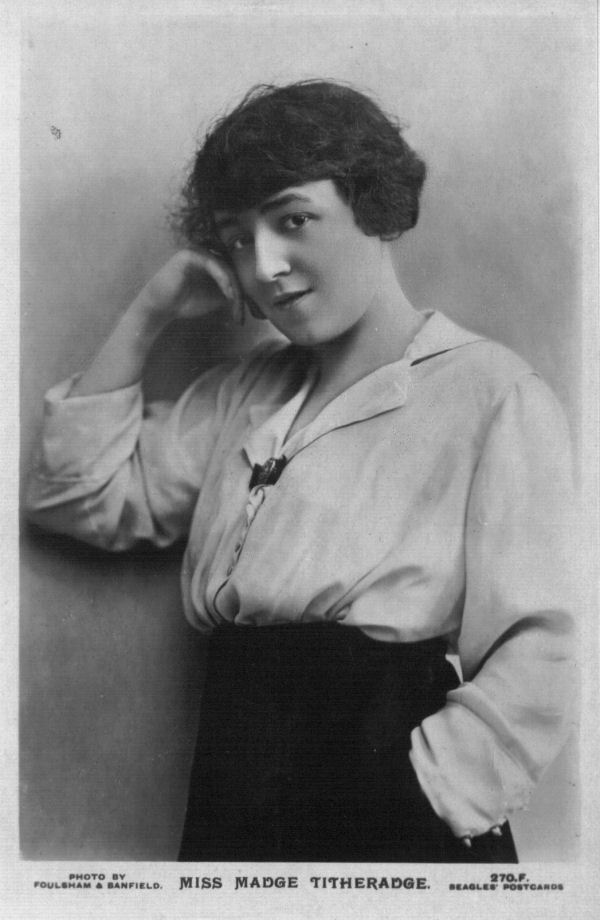 10 Cavendish Road, Hamilton Terrace, Marylebone
George TITHERADGE, Head, 52(M), Actor, born Portsea, Hants
Alma TITHERADGE, Wife, 57(M), born City, London
Sylvia TITHERADGE, Daur, 19(S), Photo Publisher;s Typewriter, born Australia
Frances TITHERADGE, Daur, 18(S), Photo Re-toucher, born Australia
Evelyn TITHERADGE, Daur, 15, born Australia
Margaret TITHERADGE, Daur, 14, born Australia
Nina TITHERADGE, Daur, 13, born Australia
Dion TITHERADGE, Son, 12, born Australia
Elizabeth SURREY, Servant, 21(S), Cook (domestic), born Wirnbish?, Essex
Alice ROLES, Servant, 18(S), Housemaid (domestic), born Marylebone, London

[Home] - [Family History Home] - [Back to Photo Index]