Edgat WATTS (1865-1944)
[Home] - [Family History Home] - [Back to Photo Index]
Edgar WATTS was born abt 1865 in Bungay, Suffolk to John WATTS & Eliza.
He was a furniture dealer. He married Edith Tucker SPRAGUE (Judith's grandmother) he is shown in the 1901 Census as staying in The Angel Hotel with Ethel WATTS but I cannot place her yet.
He died in Bungay in 1944 and was burried at St. Mary's 22-Jan-1944.
Census: 1871, 1881, 1891, 1901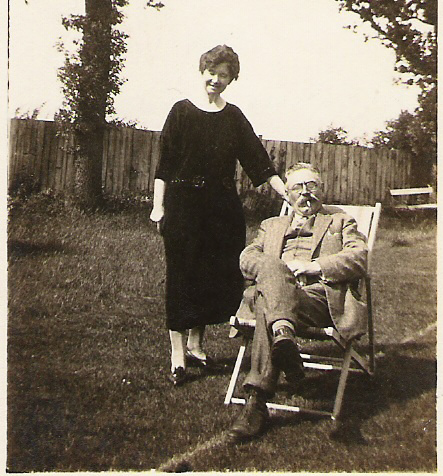 Edgar WATTS with Edith, taken early 1920s (supplied by Judith Read)
Broad Street, Bungay, Suffolk
John WATTS, head, 56(Widow), Shoemaker, born Norwich, Norfolk
John WATTS, son, 22(S), Shoemaker, born Bungay, Suffolk
Susanna WATTS, daur, 20(S), Housekeeper, born Bungay, Suffolk
Emma WATTS, daur, 16(S), Machinist, born Bungay, Suffolk
George WATTS, son, 14, Scholar, born Bungay, Suffolk
Henry J. WATTS, son, 12, Scholar, born Bungay, Suffolk
William WATTS, son, 9, Scholar, born Bungay, Suffolk
Edgar WATTS, son, 6, Scholar, born Bungay, Suffolk

Broad Street, Bungay, Suffolk
John WATTS, Head, 66(Widower), Shoemaker Master, born Norwich, Norfolk
Emma WATTS, Daur, 26(S), Dress Maker, born Bungay, Suffolk
Henry J. WATTS, Son, 22(S), Shoemaker, born Bungay, Suffolk
William WATTS, Son, 19(S), Shoemaker, born Bungay, Suffolk
Edgar WATTS, Son, 16, Hair Dresser, born Bungay, Suffolk
Broad Street, Bungay, Suffolk
Edgar WATTS, Head, 26(S), Furniture Broker, born Bungay, Suffolk

1 High Street (The Angel Hotel), Clerkenwell, Finsbury
George WATTS, Visitor, 31(M), Furniture Dealer, born Bungay, Suffolk
Ethel WATTS, Visitor, 25(M), born Hersham, Surrey
[Home] - [Family History Home] - [Back to Photo Index]