Amy Sarah Justice 'Ness' CUMNER (1882-1931)
[Home] - [Family History Home] - [Back to Photo Index]
Amy Sarah Justice was born 02-Oct-1882 in Sandhurst, Berkshire. She was the first child of Thomas William CUMNER and Amy Catherine Rachel HAZZARD.
Note: The 'Justice' in the name comes from Amy's mother's name Sarah JUSTICE.
She married William GILLAM in 1909 at Shorditch.
She died about 1931.
William & Amy had 2 children:
William Henry Cumner 'Harry' (?-?)
Amy 'Babe' (1913-)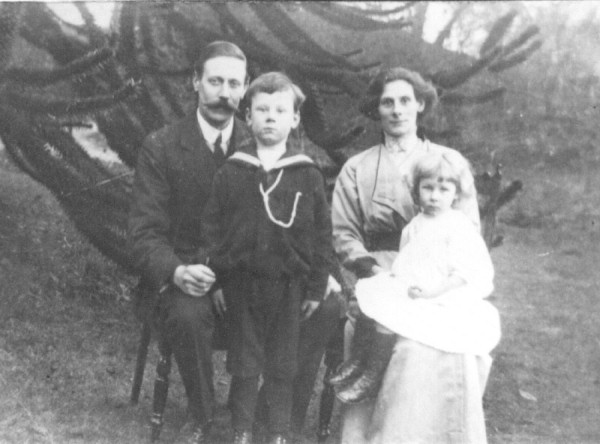 William & Amy GILLAM with their children William & Amy.
79 Charles Street, Mile End Old Town, London
Thomas Wm CUMNER, 31(M), Police Constable, born Ireland
Amy Kathe Rachael CUMNER, 25(M), born Sandhurst, Berkshire
Sidy Thos Jno C. CUMNER, 9, born Sandhurst, Berkshire
Amy S. J. CUMNER, Daur, 8, born Sandhurst, Berkshire
Matther Geo CUMNER, 4, born Sandhurst
Can't find any trace.
[Home] - [Family History Home] - [Back to Photo Index]