Thomas William CUMNER (1861 to 1893)
[Home] - [Family History Home] - [Back to Photo Index]
Thomas William was born 1861 in Dublin, Ireland to Sydney CUMNER & Miriam Crane MATTHEWS.
On 25-May-1881 he married Amy Catherine Rachel HAZZARD at Easthampstead, Berkshire [M-Cert]
He died 1893 aged 32., [GRO: 1893 JunQr, Mile End, 1c 345].
Thomas and Amy had 5 children: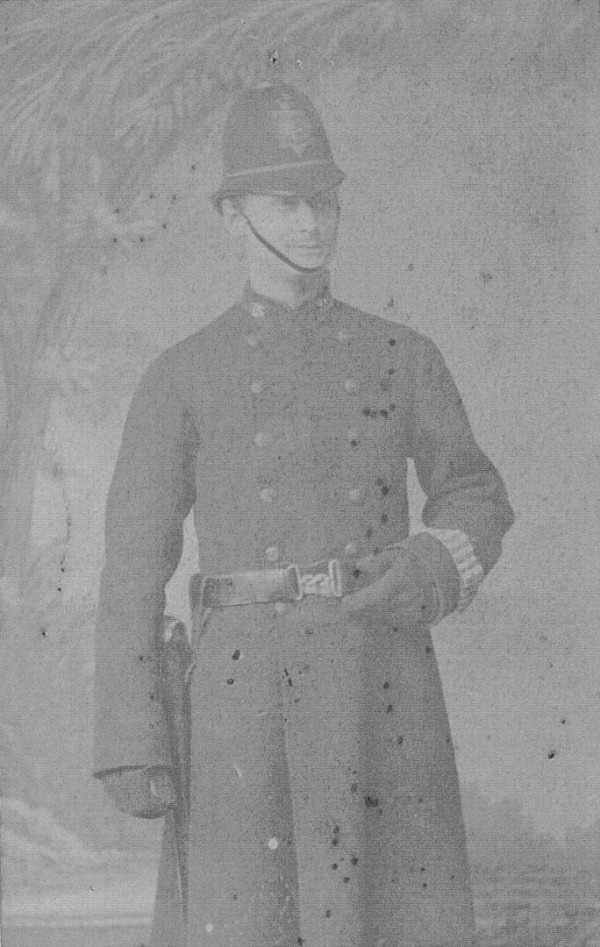 Slade Street, St. Leonards, Hythe, Kent
Marian CUMNER, 27(M), Laundress & wife of butler
Thomas W. CUMNER, 10(S)
Arthur S. CUMNER, 9(S)
Alfred G. CUMNER, 5(S)
John H. CUMNER, 1(S)
Fanny HOLLY, 16(S), Niece, born Newbury, Berkshire
Cannot find.
79 Charles Street, Mile End Old Town, London
Thomas Wm CUMNER, 31(M), Police Constable, born Ireland
Amy Kathe Rachael CUMNER, 25(M), born Sandhurst, Berkshire
Sidy Thos Jno C. CUMNER, 9, born Sandhurst, Berkshire
Amy S. J. CUMNER, Daur, 8, born Sandhurst, Berkshire
Matther Geo CUMNER, 4, born Sandhurst
[Home] - [Family History Home] - [Back to Photo Index]