Eva Grace WATTS (1881-1963)
[Home] - [Family History Home] - [Back to Photo Index]
Eva was born in Bungay, Suffolk abt 1881 [GRO: 1881 MarQr, Wangford, 4a 804]. She was the daughter of George WATTS & Blanche TITHERADGE. In 1881, George was a hairdresser.
In 1901 Eva was listed as a school teacher in the Census.
She married Robert Henry STARKEY on 9-Sep-1903 in Saffron Walden [M-Cert].
Robert Henry & Eva had 6 children:
Grace Roberta (1904-2001) [GRO: 1904 JunQr, Dartford, 2a 590]
Herbert Watts (1906-) [GRO: 1906 SepQr, Dartford, 2a 636]
Henry George Titheradge (1910-) [GRO: 1910 MarQr, Dartford, 2a 598]
Robert Charles Watts (1910-) [GRO: 1910 MarQr, Dartford, 2a 596]
Frances Mary Watts (1915-2000) [GRO: 1915 SepQr, Dartford, 2a 108]
? (1920-1920)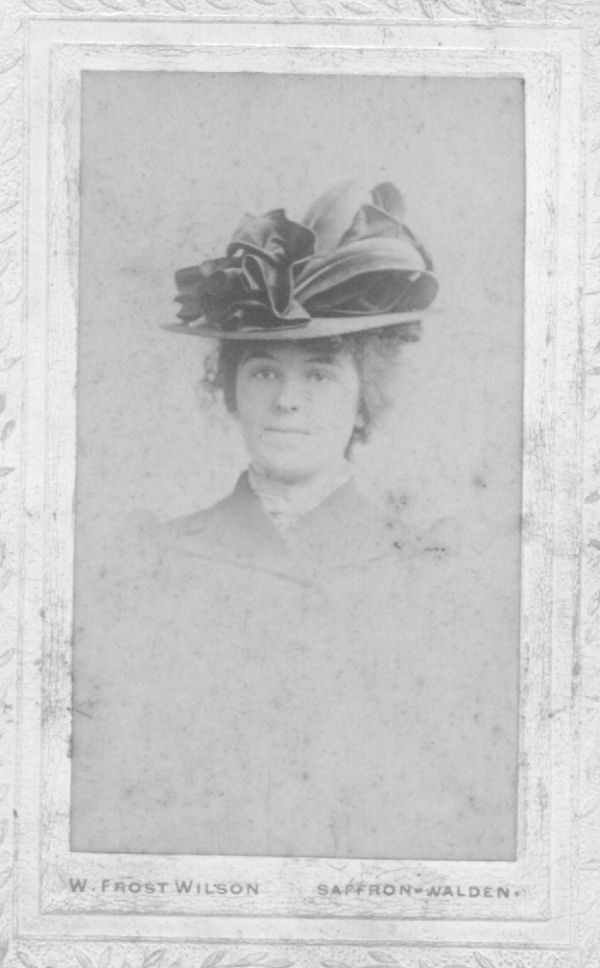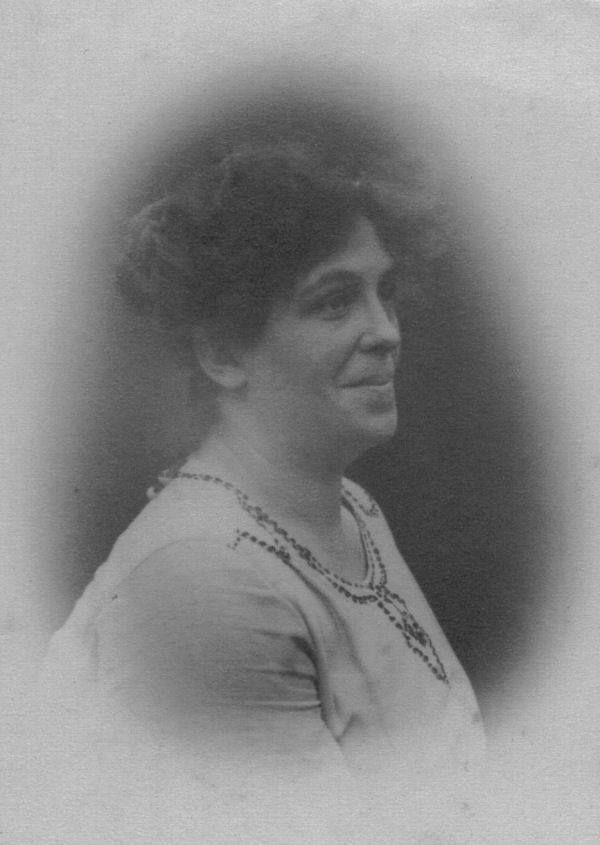 Hairdresser's Shop, Earsham St., Bungay, Suffolk
George WATTS. head, 24(M), Hairdresser, born Bungay, Suffolk
Blanche WATTS, wife, 23(M), born Portsmouth, Hampshire
George S. H. WATTS, son, 3, born Middlesex, London
Annie E. M. WATTS, daur, 1, born Bungay, Suffolk
Eva Grace, WATTS, daur, 2mths, born Bungay, Suffolk
Rosa Ellen CRESITT, servant, 16(S), general servant, born Woodton, Norfolk
Earsham Street, Bungay, Suffolk
George WATTS, head, 34(M), postmaster & hairdresser, born Bungay, Suffolk
Blanche WATTS, wife, 33(M), post office assistant, born Porthsmouth, Hampshire
George S. H. WATTS, son, 13, scholar, born Queen St., London
Annie E. M. WATTS, daur, 11, scholar, born Bungay, Suffolk
Eva G. WATTS, daur, 10, scholar, born Bungay, Suffolk
Elise M. WATTS, daur, 8, scholar, born Bungay, Suffolk
Mildred T. WATTS, daur, 4, born Bungay, Suffolk
Augustus E. WATTS, son, 2, born Bungay, Suffolk
Post Office, Saffron Walden, Essex
George WATTS, head, 44(M), postmaster, born Bungay, Suffolk
Blanche WATTS, wife, 43(M), born Portsea, Hampshire
Anne E. M. WATTS, daur, 21(S), Sorting Clerk & telegraphist, born Bungay, Suffolk
Eve G. Watts, daur, 20(S), School teacher, born Bungay, Suffolk
Mildred T. WATTS, daur, 13, born Bungay, Suffolk
Augustus E. WATTS, son, 12, born Bungay, Suffolk
Dorothy M. WATTS, daur, 4, born Bungay, Suffolk
Jessie CANNING, servant, 17(S), general servant, born Arkesden, Essex
[Home] - [Family History Home] - [Back to Photo Index]