Ada Catherine HAZZARD (1866-1928)
[Home] - [Family History Home] - [Back to Photo Index]

Ada was born 8-Jul-1866 in Sandhurst, Berkshire. She was the daughter of Sarah Anne HAZZARD (no father shown on [B-Cert]. The IGI has reference to Ada, b. 1-Sep-1867 to Sarah Ann HAZZARD & James CURTIS but I cannot verify this. Sarah Anne & James were married 12-Jan-1869, Sandhurst, Berkshire [M-Cert]. Sarah HAZZARD was the sister of my 2nd great grandmother Amy Catherine Rachel HAZZARD.

On 26-Oct-1889 she married Joseph Job JAMES at Reading, Berkshire [M-Cert]. GRO Ref. DecQr 1889, Reading, 2c 815. As far as I can tell they had two children
Joseph Basil JAMES b. 28-Nov-1889
Dorothy Jobian Gertrude (Dol) JAMES b. 3-Oct-1892
This next information is not fully confirmed but there is much corroborating evidence. I have no record of her divorce with Joseph JAMES and in fact she was burried as Ada Catherine JAMES. However, she then had 3 children with John Henry CUMNER, the brother of my 2nd great grandfather Thomas William CUMNER. Note that in the 1901 Census Ada is shown as head with a daughter Henrietta JAMES, however, Henrietta is shown as CHESTERMAN on the gravestone of John Henry. The GRO Ref. for Henrietta's birth is indexed as Henrietta Cumner JAMES 1898 JunQr Easthamstead 2e 421.
Henrietta Cumner (Det/Hetty) JAMES b. 5-May-1898 [B-Cert]
Amy (Ness) CUMNER b. 24-Jul-1905
Thomas CUMNER b. 7-Sep-1907
Alfred (Tuffy) CUMNER b. 31-Aug-1912
She died on 27-Jun-1928 in Guildford, Surrey aged 61 [D-Cert]. She was burried 30-Jun-1928 at St. Michael & St. Paul, Sandhurst, Berkshire along with her son Joseph. Her death certificate is indexed with the GRO as Ada JAMES but the name states "Ada Catherine JAMES known as CUMNER".
Census: 1871, 1881, 1891, 1901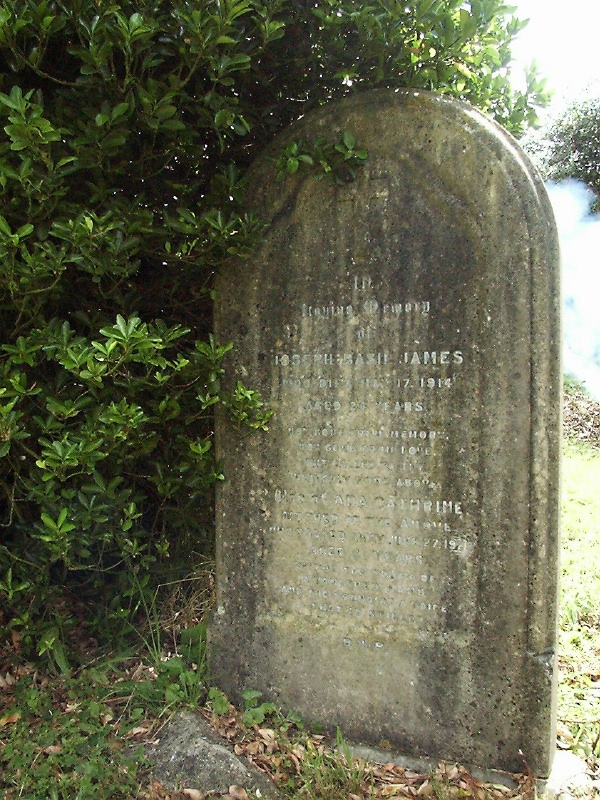 Grave of Ada Catherine JAMES & Joseph Basil JAMES
Sandhurst Road, Sandhurst, Berkshire
Henry HAZARD, 45(M), Basketmaker, born Newbury, Berkshire
Sarah HAZARD, 44(M), Nurse, born Sandhurst, Berkshire
Sydney G. HAZARD, 14(S), born Sandhurst, Berkshire
Amy C. HAZARD, 5, dau, born Sandhurst, Berkshire
Ada C. HAZARD, 4, grandaughter, born Sandhurst, Berkshire
Brookside Cottage, Sandhurst, Berkshire
Henry HAZARD, 55(M), Basket Maker, born Newbury, Berkshire
Sarah HAZARD, 54(M), Nurse, born Sandhurst, Berkshire
Amy C. HAZARD, 16(S), born Sandhurst, Berkshire
Ada C. HAZARD, 15(S), granddaughter, born Sandhurst, Berkshire
Thomas W. HAZARD, 21(S), visitor, born Ireland
York Town Road, Sandhurst, Berkshire
Wife of a Gas Stoker, aged 24, living with Sarah HAZARD, grandmother
Sarah HAZARD, 64(M), born Sandhurst, Berkshire
Ada C. JAMES, 24(M), grandaughter, born Sandhurst, Berkshire
Basil F. JAMES, 1, gt grandson, born Sandhurst, Berkshire
2 Brookside Cottage, Sandhurst, Berkshire
Ada C. JAMES, 33(M), head, "living on her own means", born Sandhurst, Berkshire
Joseph JAMES, 11, son, born Sandhurst, Berkshire
Dorothy JAMES, 8, daur, born Sandhurst, Berkshire
Henrietta JAMES, 2, daur, born Sandhurst, Berkshire
[Home] - [Family History Home] - [Back to Photo Index]